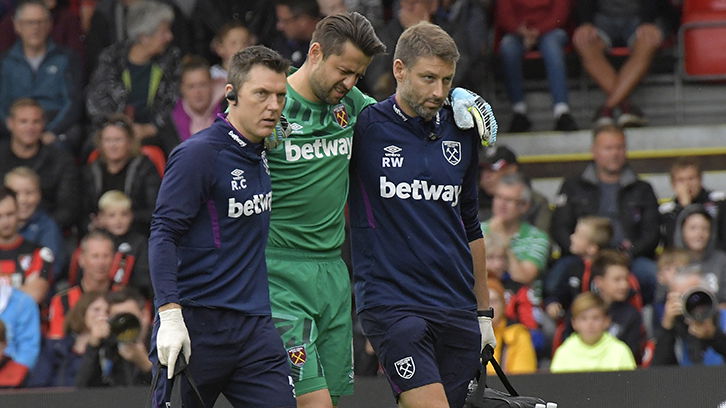 A decision on whether Lukasz Fabianski needs an operation on his thigh muscle tear will taken over the next 24 hours!
Earlier today we revealed in our injury update that a muscle tear normally needed surgery and at his midday presser ahead of the game against Palace, Manuel Pellegrini indicated that such a decision was now imminent.
He told the media: "About Lukasz, the medical staff will decide today or tomorrow if he will have surgery or if he will recover without surgery."
However, he brought encouraging news of the player's position anyway adding: " Either way, it will be less than three months he is out. 
"For the moment, we have Roberto as goalkeeper and I trust a lot in him. I am confident he will have good performance. We also have David Martin, who has good experience."
That's all very positive stuff as we go into a game which could push us onto 15 points and four clear of tomorrow's opponents.
It's good too that the Fabianski position – which has thrown a shadow over everybody associated with the club is close to making that decision on surgery and even better to hear that he will be back sooner than any of us had expected.
Both he and the players have been talking up Roberto's virtues – quite rightly and at least two weeks of Fab's recovery period will be taken up by the international break – so that period finally turns out to be useful for something!
In the meantime, the manager is looking to maintain his position near the top of the league saying: "I always believe. You must have a mentality that reflects the attempt to do it.
In the way we are playing, we are improving a lot, and that is one of the reasons we believe we can do it. Seeing the way we played away to Bournemouth, we tried to win the game from the first minute."
I don't think this is the moment to make conclusions about other teams. We have another 30 games to play, which is a lot of points. We must concentrate and try to keep playing in the way we're playing now."