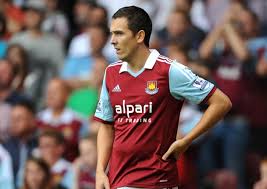 Stewart Downing has made it clear that "boos and shouts" from home fans only inspires him to be brave and keep trying!
Life can sometimes be difficult in front of the Irons purists but Downing has no worries about the Boleyn crowd reaction claiming it merely spurs him on.
He explained: ""You've got to have self-belief. When things are not going well, think: 'It will turn.'
"If you're losing at home and the crowd are edgy and something you try doesn't come off, they might boo or shout, but you've got to be brave and keep trying."
He understand perfectly and understands that when the opposition fans have a pop it's because "they see you as a threat."
Speaking to FourFourTwo with Adidas he said: "You have just got to take it as a bit of fun. You get players that will kick you and try to intimidate you, but they are doing it for a reason – they're trying to put you off your game.
"You've just got to get on with it and not react, because that's what they want. If you don't react, it deflects the pressure onto them.
bs.