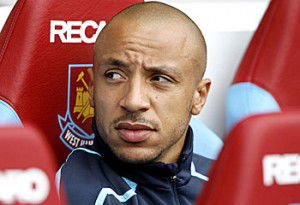 Former Hammer Julien Faubert has declared his love for West Ham and their crazy special fans and says he wished he could have finished his career with the Irons.
In an interview with Sky Sports Faubert talks about his famed loan to Real Madrid and his move to West Ham in 2007.
On his loan to Real Madrid, Faubert says "I remember I was on the team coach to go to play against Fulham when they called me, first of all I said: 'Yeah, I'm quite busy now', because I didn't really believe it. We played the game, I think we won, and afterwards I picked up my phone and I saw around 15 calls and 20 messages. I thought, okay, maybe it's not a joke! It was crazy."
"I didn't play a lot because, to be honest, I didn't have a good connection with the manager Juande Ramos," he said. "The team was also playing pretty well, and in my place Arjen Robben was playing and scoring every game.
"The press and friends were laughing and things, but not many players can say that kind of club was interested in you. It is one of the biggest clubs in the world, and the feeling and the experience was amazing. I played with Fabio Cannavaro, Michel Salgado, Raul, Guti. The quality was crazy."
On his move to West Ham in 2007 he says:
"It was my dream to play in the Premier League so when I arrived I was really motivated," he recalls. "The pain was crazy but mentally as well it was like a punch in the head." Alan Curbishley, West Ham's manager at the time, described it as a "devastating blow for everyone".
"The club was really kind to me and helped me to come back," says Faubert. "They didn't push me, they didn't put me under pressure. To be honest West Ham is just an amazing club in England. In France, the people don't know that club like English people. I think that's why I had some problems with the national team. But I really love that club."
"West Ham is a part of my life now, and when I go back to Upton Park it feels like home," he says. "I spent a really good time there with crazy, special fans. If I could have finished my career at West Ham, I would have done. I don't know exactly what happened when I left. I had an agent who told me they had offered me something, but I never saw the offer. In the end I had to find something else."