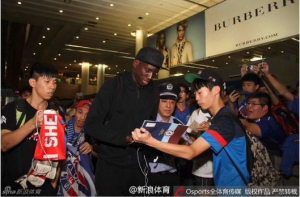 Beşiktaş have released a statement on the Turkish stock exchange that former Hammer Demba Ba is in talks with Chinese club Shanghai Shenhua. The statement read: "Shanghai Shenhua are in talks with Demba Ba."
Süper Lig clubs generally release statements of this nature as a formality before disclosing the completion of the transfer.The Chinese giants are reported to have reached an agreement for a £9.8m transfer for Ba on a £4.9m per-season salary worth over £94,000 per week.
The Senegalese international arrived in China to finalise talks, undergo a medical and sign with Shenhua.
Ba was rumoured to be holding out for a Premier League return and was recently linked to return to West Ham in the media after Slaven Bilic joined West Ham but as we reported back at the beginning of June, Slaven gave no indication to the board that he wanted to bring Demba Ba back to Upton Park.