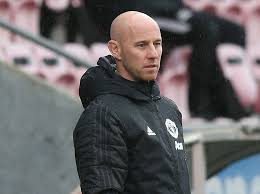 Former Manchester United star and a member of the school of '92 Nicky Butt has arrived at a harsh assessment of Sir Alex Ferguson's successor David Moyes.
The now Hammers boss was of course hand picked by Ferguson to follow his ultra successful reign at Old Trafford but it all ended in tears
He was handed a six year contract but was fired at the end of 10 months – the third-shortest managerial stint in United history and the shortest in 82 years, despite calls from such as Denis Law and David Beckham calling for him to be given more time at the club.
Butt, however, having agreed that Louis van Gaal and Jose Mourinho had varying degrees of success at the club can find nothing in the Moyes Old Trafford to recommend.
He said: "All three managers failed to do the thing they were brought in to do in respect to winning the league but the latter two did have varying degrees of success.
Moyes lasted the least out of three and it's incredibly difficult to see his tenure as anything but a failure, unfortunately."
Since those difficult days the Hammers boss has been fired from Real Sociedad, resigned from Sunderland after their relegation and allowed to leave the Hammers after saving them from the drop.
Now back at the club he remains in a dog fight  – a position left by the hapless Manuel Pellegrini.