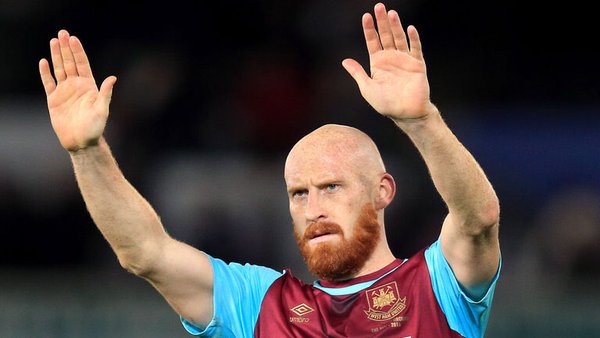 Former Hammer James Collins has announced his retirement from professional football today.
Collins had been without a club since leaving Ipswich Town in May 2019. Collins first stay at West Ham was 4 years and 3 months from 2005 to 2009 followed by his second stay between August 2012 and May 2018 adding another 5 years and 10 monthshe
Ginger Pele', made 214 whole-hearted appearances for West Ham across two spells between 2005-18, scoring nine goals and making countless vital clearances, interceptions, tackles and blocks.
Collins wrote on Instagram:  'This will not come as a surprise to most people as I haven't played for a season now, but today with a heavy heart I've decided to officially retire from football… after a lot of thought I believe this is the best thing to do so I can draw a line under my 20-year career and move on to my next chapter in life. I would like to thank all the players and fans at all the clubs I played for @cardiffcityfc @avfcofficial @ipswichtown ❤️👍🏻 Also all the players, staff and fans of @fawales as a boy to play for my country was a dream and I'm very proud to have gone on to get 51caps and loved every second 🏴󠁧󠁢󠁷󠁬󠁳󠁿 But I must save a special thank you to all players,staff and incredible fans of @westham a team that will forever be in my heart… I spent 11 years at this wonderful football club and still think about it every day, A club where I had the best time of my life for such a long time and gave my all everyday… without @westham and you amazing fans my life wouldn't be what it is today… I hope one day in the near future I can pull on the claret and blue one more time and thank you all properly ❤️⚒ Finally I say thank you to my amazing family without all of your love and support through the good time and bad nothing I achieved in the game would have been possible xx Love you all xx Thanks Ginge"