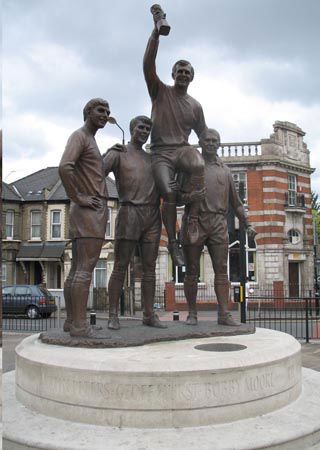 When Co Chairman David Gold was asked on social media by a West Ham fan "Is the Bobby Moore memorial statue going to remain or move to the new stadium?"
He replied "The Bobby Moore statue will come with us to the new stadium. dg"
This has left some Olympic Stadium watchers confused whether it West Ham's to take with them.
The memorial to England's 1966 World Cup triumph depicts West Ham legend Bobby Moore, along with fellow West Ham players Geoff Hurst and Martin Peters, as well as Ray Wilson from Everton.
At four metres high it is a prominent sight at the corner of Green Street and Barking Road was designed and crafted by British artist Philip Jackson and weighs in at four tonnes.
Newham council website says financial contributors to the Champions statue included the London Borough of Newham, West Ham United Football Club, Green Street SRB, Arts Council for England, and Arts & Business.
West Ham would most likely need permission from these backers to relocate the statue to the Queen Elizabeth park close to the Olympic Stadium.