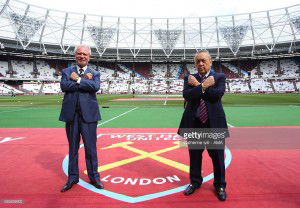 West Ham Chairman David Gold has explained the club are trying to achieve harmony between those who want to sit and those who want to stand when he was challenged on a letter sent to all season ticket holders this week.
Gold tweeted out "We are trying to achieve harmony between fans who want to sit and those who what to stand and increase to 66k. dg" when asked "What are you trying to achieve by sending out these letters??"
Not everyone has received their letter in the post this morning so we reprint the letter in full below for those who may have missed it.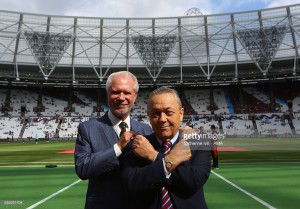 "We are writing to update you on the issue that has arisen during West Ham United's opening games at the London Stadium concerning persistent standing.
We fully understand that this is a difficult and polarising issue, with some individuals who may have stood at the Boleyn Ground wishing to do so, while other fans – in most cases, lifelong supporters especially those with disabilities or attending with children – are having their experience at the London Stadium ruined by individuals
choosing to stand throughout the game in front of them.
Despite those differing views, the rules on this matter are absolutely clear. Under the Premier League's Stadium
regulations, persistent standing during games is "strictly forbidden". The London Stadium operators have a duty to enforce those regulations, and – because the safety and enjoyment of our fans will always be the primary concern of West Ham United, they do so with the support of the Club.
Indeed, as you will know, the independent authorities responsible for safety at the London Stadium have held the ground's capacity at 57,000 for our home matches until their concerns have been resolved, meaning that thousands of West Ham fans who would otherwise be able to attend those games have been unable to do so. Given that we have planning permission for 60,000 and that our long term goal is to reach a 66,000 capacity in the near future making us the biggest ground in London – an aspiration that we know is shared by the majority of supporters  – we are sure you can see why this issue is all the more pertinent.
We would therefore respectfully urge all fans who like to stand to show due respect and consideration for those fellow fans, who share their love for West Ham, and also want to watch the game and cheer on their side. Together, in cooperation with the Club and the London Stadium stewards, we can ensure that everyone enjoys their match day experience. 
We have been asked by the safety authorities as well as a large number of fans to play our part in ensuring that the proper procedures and regulations are followed. We therefore have a duty and a responsibility on behalf of our fans to tackle this issue, and to identify and take action against any individuals who are engaging in persistent standing, and refusing to sit down when asked to do so by stewards. 
When purchasing their tickets, all Season Ticket Holders entered into a contract with us and thereby agreed to adhere to the terms and conditions set out in that contract, and to the rules of the Stadium. Individuals who refuse to do so are in breach of that contract, and – while we are reluctant to do so – we are lawfully permitted to revoke their Season Tickets. 
If you are a Season Ticket Holder who has been affected by persistent standing or if you are one of our supporters who has been forced to report the abusive behaviour of individuals that have been asked to sit down, please rest assured that we are following up on all reports.We are working with LS185 to assess CCTV footage in order to identify those responsible and we will be taking action against these individuals. This process is underway and stadium bans have already been issued to fans identified as persistently standing and becoming abusive to stewards and fellow supporters when asked to remain seated. Finally, as a way of resolving this issue, a number of fans have enquired whether it would be possible to create a 'safe standing' section within the Stadium.
While we have personally expressed support for such an innovation in the past, as long as current Premier League regulations remain in force, and strictly forbid persistent standing during the game, both the Club and Stadium operator will have to enforce a strict 'no standing' policy. Thank you again for your support of West Ham United, and for your patience and understanding while we work hard to attempt to resolve this issue.
Yours sincerely, David Sullivan  David Gold Joint-Chairman