I don't write much, I'm not very good at it and quite frankly find it far easier to stand in front of a camera and give my opinion. However after speaking to Hugh on the phone this morning he was quite keen that I share with the C&H readers my experience of yesterday which saw Watford visit The London Stadium.
THE JOURNEY IN
The first sign that all was not well was when I left Stratford station with my Betfred promo code to begin my journey to the Hammerschat boat bars at midday. Rather than being allowed to take the most direct route to what is already a fairly long walk I found myself blocked off and herded in the opposite direction. I had grown accustomed to not being allowed into Westfield after the game but it was now clear that if I wanted to grab a sarnie before the game, I'd have to circumnavigate Cape Horn  to get back to the stadium.
A big part of the allure of moving from Upton Park were the transport links and for a slightly rotund individual like myself of course the food halls. The food halls are fantastic but it's a logistical nightmare to use them and far from Westfield being part of the matchday experience it is very quickly becoming evident that we (Hammers Fans) are not welcome.
The trains, station and links are of course first class but it's little use having a punctual train service if one is going to be significantly delayed when leaving the station.
INTO THE STADIUM
Much has been made of the standing issue but rather than give you my personal view it's probably easier to explain what I actually do. . . .  I don't stand much of the time, I get onto my feet for the singing of 'Bubbles', when we score, when it looks like we might score and for periods when the referee might be dishing out some rough justice.
With that in mind I did not believe that the persistent standing issue applied to me as a blind eye seems to be turned when standing at periods of 'high excitement'. . . . . ..  I could not have been more wrong. Some 15 seconds into the first rendition of Bubbles there were a posse of stewards telling the people in front section to sit down.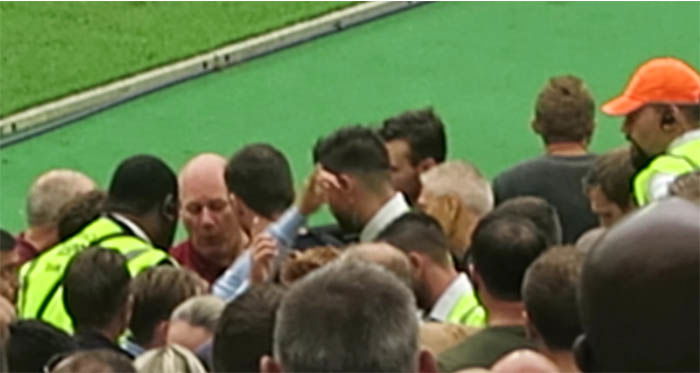 The only game I've missed this season was the Juve friendly so I've started to recognise the familiar stewards but this time it was different. They were mob handed and appeared to have a new leader who was a hulking presence in a bright orange baseball cap. I'm not entirely sure when people started getting ejected because the game was incredibly exciting to begin with so my attention was on the pitch.
Not everyone's attention was on the game though because the stewards were mobilised and intent on making people sit. Probably the worst example was when a carer of somebody in the disabled section had stood to sing 'Bubbles' and was aggressively asked to leave. It took the fan in the wheelchair to plead for reason and point out that nobody's view was being obstructed. To call it unedifying would be putting it mildly.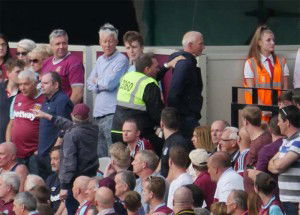 Now here is where I think the trouble started. As some West Ham fans were being ushered out by the stewards the Watford fans (who were un-policed and standing throughout) were singing 'Cheerio' to the West Ham fans. The sense of injustice and double standards was palpable so now rather than standing and singing, fans were standing angrily and gesticulating towards the impervious Hornet supporters.
Things were now getting dangerous, grown men were on the move and there were mothers and fathers rushing to take their children out of the stadium. I was sat next to my hammerschat co-owner Geo and we saw at least  three children in tears. It wasn't long before fights started breaking out around us , from what I could gather the fights were about people standing, about kids getting caught up in it and in particular the Watford fans. If I had to use one word to describe the cause of the scuffles it would be 'frustration'.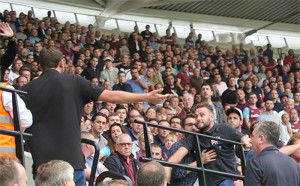 The icing on the cake was when it became clear that an opposition fan was in the West Ham end with us. The opposing fans were becoming ever more boisterous as their team scored four unanswered goals against our error- prone defence. Possibly the best thing to happen was Watfords 5th and subsequently disallowed goal because it emptied the venue and defused the atmosphere somewhat.
I would just like to say that the stewarding at the Boleyn ground was excellent, the Bobby Moore Stand was run by a bloke called Paul who was a proper West Ham fan and he and his minions seemed to understand the fans. I would often see stewards and fans giving 'high fives' and on occasions even embracing when West Ham scored a goal but I don't think there are many Hammers fans on the staff these days  . . . . . . . ..  I think we are probably the only Premier League club in that situation.
It wasn't quite like the infamous 80's because this was not organised violence, it was fist-fighting breaking out in pockets but it created a sinister, nervous and uneasy atmosphere. It is also worth noting that I did not see a policeman all day.
MY OPINION
Fans bought into the dream . . . . . .  Westfield, the roof generating noise, the transport links and of course the team itself.
The reservation center appointments were the perfect opportunity to create unofficial family areas but the +2 scheme has been nothing short of a disaster and nobody will persuade me otherwise.
The problem is the standing issue and in particular those who used to stand in the BML and Chav Corner, nobody told them "it's all going to change when we move and you'll have to sit". Myself and Geo were sold our tickets with a nudge and a wink and an indication that we'd be in the 'raucous' section near the away fans.
How a mother and a child of about six years of age found themselves stuck in amongst those who used to stand for the past 15 years is beyond stupid.
I have never known the club so divided because things like the Tevez saga, relegation and the Bond scheme have traditionally unified us. Unfortunately the crowd are now fighting themselves and the board, stewards and fans have never been further apart.
Gonzo