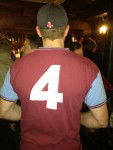 By Rich Sprent
There will be few unhappy with the point at Old Trafford. It was a battling display, with not only some good play on offer but a striker who scored plus some well overdue… LUCK!
Statistics show that this season Manchester United are one of the unluckiest sides relating to the chances they create and have created against them. For all their play they are not getting the results they deserve. And West Ham profited with a much needed point.
The Reds were thwarted by an excellent display from Darren Randolph and three centre-backs who put in big shifts.
So, all is good. A point gained with the only downer being Sakho out with a hamstring injury.
Coming away from OT with a point should be seen as a good thing. We could (should) have had a pen, Fletcher went close and we might – via chances created – have got all three points. It's a positive result.
And it could have been better, had better choices been made whilst the team watched the home side string 22 passes together and then allowed Ibra to head home a straight punt into the box, (a good pass but one that should never lead to a goal).
Looking at the overall Hammers play though there are still worrying signs. Slav stated that we appeared shocked at having taken the lead and sat back. Yes, this may be glossed over by the result but it really shouldn't be.
Ours is a team that was expected to be challenging amongst the Euro contenders. The reality of the performance given was one akin of a cup giant killing attempt.
The three centre backs were so so deep. Keeping any sort of possession was going to be a real task. Manchester United pressed high and yet created space behind themselves.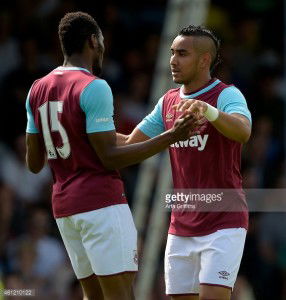 There was a constant stream of pass backs to the keeper for him to launch upfield and with only Sakho upfront, possession was time and time again cheaply given away. Sakho did very well and was a constant threat to the opposition. With better possession, those spaces in their lines could and should have been exploited.
Payet is always dangerous. He has had his critics this season but while he may not shine, he still produces chances. We failed to support hm adequately. Better quality of possession is required to keep other sides on the back foot.
The poor possession, and not just the amount but the quality of it, is a sum of the deep defending and poor decisions.  Noble was shocking. I'm not going to beat around the bush here. His faults have always been his lack of speed and questionable passing. He was far too slow in possession. He put real pressure on Obiang who was also wasteful in possession despite winning the ball a dozen times.
Lanzini, the real gifted ballplayer in the midfield was starved of anyone to pass to and most offensive play passed the three of them by. This inability to keep the ball added to the back three being so deep that they needed radios to communicate with the team.
The low amount of possession is understandable with a third of the team so deep and not part of any offensive play. Whilst under pressure and so deep against such a dangerous side, passing around our defensive third is not advisable.
Dropping deep, however, meant that the wingbacks then have an added 20 or so yards to try and link up with the midfield and attempt any overlaps. Without outlets of this kind the constant two banks of players lumbered forward under the press. There was a sheer will of effort to approach the halfway line under constant pressure. The long ball may be an instant relief but it was forever a short release and it came back with interest.
Manchester United concentrated on two offensive tactics: To pass through West Ham's deep lines and to get behind them with their wide players.
Valencia was more easily snuffed out with Cresswell and Ogbonna marshalling that side. The constant attacks aimed behind Antonio looked like the last six minutes at WHL all over again. This time however, Kouyate was able to snuff out the many inroads that Rashford and co made.
This all sounds all negative after a good point gained? Yes and no! There are two ways of looking at it. It's a good point won after a very poor start to the campaign. It was a good performance from the huge heart shown and the effort given. It's certainly something to build on.
For a team with the expectations of being a commanding force however, it was an imperfect performance. We played like a lesser side upping our game in the hope of nicking something rather than as a rival. Forget the reputations of whoever we are playing.
Last season showed that we should be in the mix with these teams. Stamping our authority and showing that we deserve to be up there must be the norm and not as a result of extraordinary effort.
Either way, it is a good point and helps chip away at the target required to get this season back on track. I maintain that the target must be 26pts on the board after we meet Manchester United in the reverse fixture on January 3rd. There is no reason that the quality in the side could not achieve this total.
Oh and that luck?
West Ham rather sickenly are the mirror image of Sp*rs in the luck department. We're the sixth unluckiest side in the league. It's no surprise that they are proved to be one of the luckiest. They are still not the luckiest side in North London however; they're even second in that respect.
Stats interpreted from @soccermatics
The views expressed here are those of the blogger and are not necessarily shared by ClaretandHugh