Jermain Defoe has become a big summer target for West Ham but the manner of his departure is still an issue with many Hammers fans who dubbed him "Judas."
His goals for Sunderland and return strike for England in the match against Lithuania – along with his emotional and caring attitude towards terminally ill England mascot Bradley Lowery is winning people over.
Here's how members of the ClaretandHugh Facebook Group have responded to the 34 year old former Iron's possible return to the club -once dubbed Judas…now considered a new Defoe.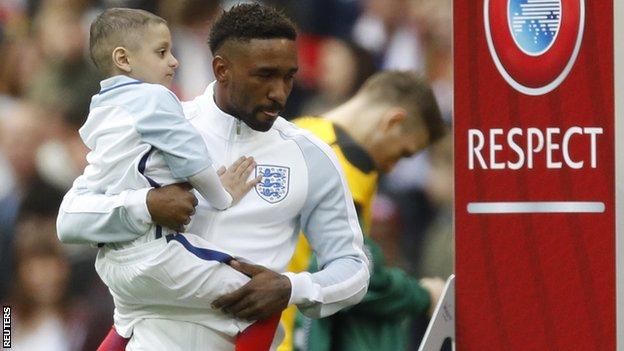 O We  SO need him. Can't lie – been a huge fan always! He has said what a mistake he made-see no problem-now if his name was Paul Ince….!
 O I can't blame any of the young players we had back then for wanting to move on and better themselves. I doubt anyone can genuinely say that Rio, Lampard, Defoe, Cole, Carrick, Johnson and co would have had their respective careers had they stayed with us.  Defoe's only failing was timing. The fact that he could return 10+ years on with us never really having managed to sign a decent striker since he left, says a lot! If we sign him up, I hope he's welcomed. Certainly we need him more than he needs us, and any aggro that comes with it
O What's more significant for me is West Ham' let go' almost a virtual England Team: James, Johnson, Dicks, Ferdinand, Lampard, Carrick, Cole, Defoe – have I missed anyone? Says everything about West Ham's ambitions and little seems to have changed. Amazing that Defoe is still able enough to come back!
O And just in case anyone hasn't realised, the board at that time weren't Gold and Sullivan. T
ime to forgive and move on.
O He's still a quality player and on a free or a low fee he's a bargain even at his age just like Sherringham was for us.
It's a no brainer. But there will still be some with no brain who find reasons to continue their pointless vendeta!
O Football aside always hated the guy but seeing him over the last few weeks and last night with the terminally ill boy Bradley Lowery shows there is a lot of good in him. He could score a lot of goals for us too.