Claret and Hugh – given the discussion among West Ham fans as to who could take over from David Moyes should he eventually be released – have given a near unanimous thumbs up to Brentford's Thomas Frank.
The Dane has done a remarkable job in south west London since he arrived and despite him signing a new two-year contract recently Hammers fans would approve of him being approached.
Here's a random selection of responses to the suggestion from CandH that he is the right man to lead the Hammers forward.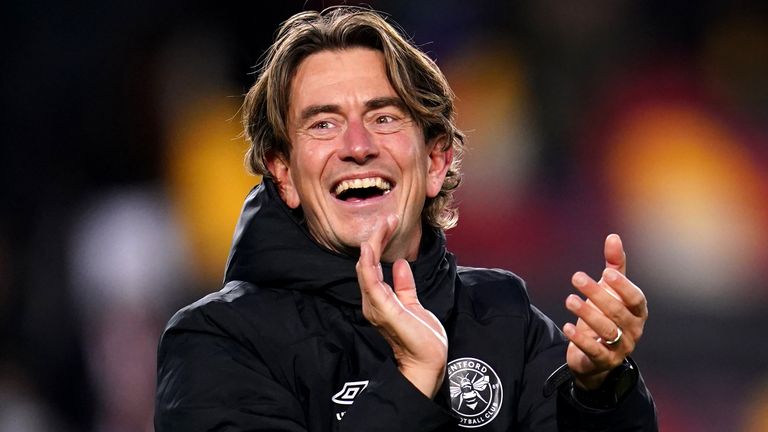 If I were TF I know what I would do and that is to stick with Brentford. WH have lost 4 of the last 6 Premier League matches to Bentford's 1. No real prospects of incoming players in the January window (don't we have enough newbies to integrate as it stands?). Also the probable absence (in summer) of the best Academy player we`ve had for many a year. The only reason he would consider it would be $$$. They have a new stadium purpose built for them that resembles our old Boleyn and they also have an atmosphere sorely lacking at LS.
not a bad suggestion, that
Absolutely spot on, couldn't agree more: is already doing the job in the Premier League (and on a much lower budget than Moyes), is young, progressive, tactically astute and based in London. Ideal.
Thomas Frank I would take all day every day
If it was Gerrard or Dyche that would be me finished with the club I have supported for 50 years !!!!!
A very good call although they would obviously fight hard to keep him – but the point also made is that there are Thomas Frank's out there, Brentford found him. Remember when Eddie Howe emerged? It just takes very good recruiting and courage to go outside the established dinosaur breed, and fans don't necessarily know who is available or capable off the cuff – the Board need to know.