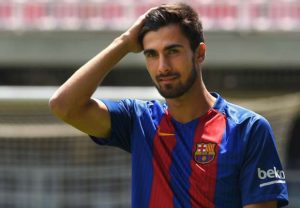 West Ham are becoming firm favourites to grab Andre Gomes from Barcelona after news emerged this morning that Spurs have dropped out of the race.
The Everton loanee is wanted at Goodison Park but Manuel Pellegrini has set his heart on the player and it now looks more than odds on that the 25 year old will be on the move to the east end.
The Hammers are ready to up their bid from the £18 million on offer to around £25 million believing that will force Barca's hand.
The player is on the 'for sale' list at the club and although they are asking for £30 million a bid close to or on £25 million could close the deal.
A senior Hammers source told us by e mail that the club had made him a priority target and that the £18 million had been offered.
He revealed however that it was expected to take take closer to the £25 million to get the player whom Mario Husillos has been watching for several months
Spurs had been monitoring the position on a player who impressed last season during the Toffees loan spell but according to Sportsmail  Mauricio Pochettino's side will no longer follow up on their interest.