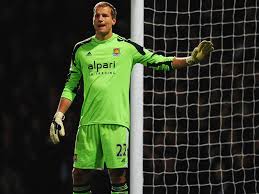 West Ham are scouting for replacement keepers to challenge Adrian next season.
Both Jussi Jääskeläinen and Rahael Spiegel see their their contracts expire next month with little chance of them being renewed.
Jussi turned 40 this month and it seems unlikely he will be offered another short term contract whilst meanwhile Spiegel has failed to impress since joining in 2012 despite loans to Crawley, Barnet and Carlisle.
West Ham are said to scouting Turkish goal keeper Mert Gunok who is is out of contract at Fenerbahce this summer. Gunok is currently back-up to Volkan Demirel but has made just seven league appearances this season.
Southend goalkeeper Daniel Bentley has regularly been linked with a move to West Ham along with Loris Karius, a German under-20 international who is also said to be a Hammers target. Karel Hrubes, the Czech under-21 'keeper and plays for Slavia Prague, has also been scouted according to reports.
Great things are expected of West Ham academy keeper Sam Howes but it is thought to be too early to become Adrian understudy. Howes signed his first professional contract with the Hammers on the day of his 17th birthday last year, putting pen to paper on a two-and-a-half year deal.