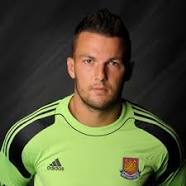 Goalkeeper Stephen Henderson, 26, is today being reported as being a target for Blackburn Rovers.
The former Portsmouth stopper – who is understood to be on £20,000 a week – at Upton Park is a player the club would move out if a bid were to be made.
And according to some internet sources there is an interest from Rovers.
Henderson's career has gone into reverse at the Hammers since signing a permanent deal in 2012 having made just two league cup appearances.
He went on loan to Ipswich, making 24 appearances and then to Bournemouth – again making a couple of appearances.
Now third choice behind Adrian and Jaaskelainen,  the player would be keen to move if Rovers follow up there alleged interest with a firm bid.