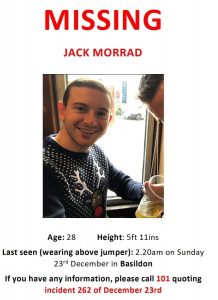 The hunt for missing West Ham season ticket holder Jack Morrad enters its ninth day with no sightings. Hundreds of local people joined in the public search yesterday meeting at Festival Leisure car park on Sunday morning.
Another public search resumed this morning for with members of the public meeting at the Westgate car park, opposite the BP garage, near Basildon town centre from 10.30am.
A Facebook group has been set up to help with leads, awareness and updates and it now has over 8,000 members  https://www.facebook.com/groups/310548482921252/?ref=share …
Jack left Colors nightclub at around 2 am in the early hours of Sunday 23rd December after earlier watching West Ham v Watford at the London Stadium on Saturday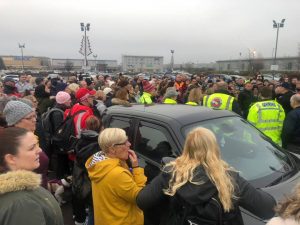 afternoon. He left the club alone and did not tell anyone where he was going.  He was wearing a blue jumper with a reindeer on the front, light blue jeans and white trainers. He was not wearing a coat.  The last ping from his phone was at the edge of Gloucester Park and the police have CCTV footage at 2.28am heading along Blake Avenue. This is why the search is being conducted within and around Gloucester Park including Basildon and Langdon Hills (which is where he lives).
If you have any information please contact the Police on 101 quoting Incident 262.