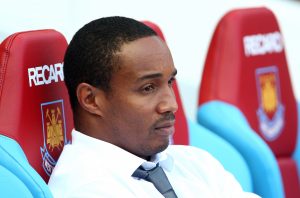 Former Hammer Paul Ince has written in his Paddy Power blog that a big name manager was unlikely to come to West Ham. He also tells supporters that they should let Moyes do his job and get behind the team.
Ince told Paddy Power "A lot of West Ham fans have been moaning about the appointment of David Moyes, saying he wasn't what they wanted, that they wanted a bigger name. Why do they think West Ham would attract a big-name manager? Someone like Carlo Ancelotti would never go there.
Palace went for a 'big' manager in Frank de Boer and look how that turned out.
West Ham fans need to accept the situation that their club is in – they need saving from relegation.
Moyes is a very good manager. He showed that during his time at Everton. In fact, West Ham being a bit more like Moyes's
Everton team would be no bad thing – whether the fans want to hear that or not.
He got a rough ride at Manchester United, branded a failure when realistically he was never given enough time to succeed. He couldn't have turned it down, but he wasn't given a chance to make it work.
He probably should have turned down the Sunderland job, and he's said that since.
Let him do his job, and save your club from relegation. When your team is in dire straits, you either boo them all the time – like the fans did when Billic was in charge – or get behind the team.
It's time for West Ham supporters to do the latter."