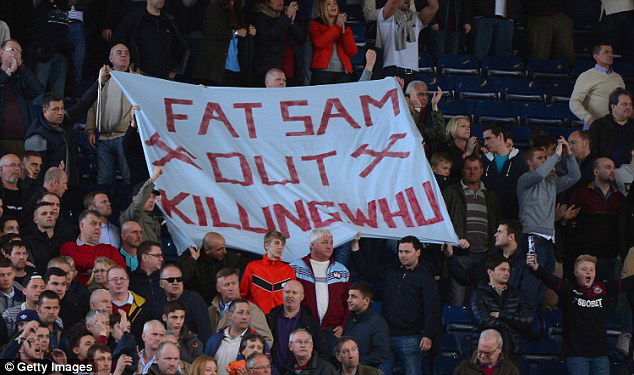 In times like these it is perhaps as well to remember some West Ham history and ask: "Should I be this wound up given what's gone before at this club?"
The last few days have been intense and social media makes things feel so much worse – we live with it or choose to turn away?
Trying to fathom the cause of the current chorus of discontent is not easy as it spreads over a variety of issues – all very commonplace in a game which generates such passion
But the issues which appear to be affecting the mood of the public are:
O Three straight defeats; the poor level of performance in each game, alleged broken promises from the board, the William Carvalho saga, the website statement from David Sullivan which appeared to put Slaven Bilic's head on the block and the Marko Arnautovich sending off.
There may be more but there is no single focus  to the current chorus of discontent unlike numerous issues in our past which have been more infinitely more serious at times, and produced precisely the same reaction.
So let's travel back in time and take a look at what life is like on the dark side as a fan of the greatest football club on earth and get a bit of perspective on this!
1989: THE BOND SCHEME brings pitch invasions:
The Irons launched the Bond Scheme in November 1991 when the Terry Brown-led board offerered fans the  'opportunity' to purchase bonds in three price bands – £500, £750 and £950, ownership of which would confer the right to buy a match day or Season Ticket for a designated seat for 150 years. However, despite 'purchasing this right' the plan was they would still have to pay annually for the ticket…! The suggestion was that only those who paid the bond would heave the right to buy season tickets in future.
Two pitch invasions took place in protest against the scheme. A post-match demonstration by fans against the scheme and new managing director, Peter Storrie, before a home game against Wimbledon was followed by pitch invasions in home games against Everton and Arsenal.
1989: Massive outrage when John Lyall was sacked after the club was relegated in 1989. That really wasn't pretty.
2003: Relegation from Premier League in 2003 under Glenn Roeder
2006-2008 Deep unhappiness at playing style from many during the Curbishley years
2007: Carlos Tevez scandal under Alan Pardew 
2008 Three games in a row lost 4-0 against Chelsea, Liverpool and Spurs 
2008 West Ham's shirt sponsor XL Airways goes bust 
2008: Icelandic owners go bust after financial crash of 2008 – West Ham's future on the line
2009 Upton Park riot with Millwall after pitch invasion and fighting
2009: West Ham sign Savio for record fee, leaves in the summer and later fakes his own kidnapping
2009: The Calum Devonport knifing affair – his contract is terminated
2011: Relegation from Premier League in 2011 under Avram Grant 
2011  Fans divided over the football under Sam Allardyce which ends with no contract award 
2016: Alleged all night drinking spree by Andy Carroll and Darren Randoph investigated by club but no public comment on their findings
2016: Dimitri Payet goes on strike and is sold
There's much much more but you get the drift.
The present situation, to those of us with long memories, feels very familiar so to those who are getting out of their 'nuts' have patience with those of us who have been there, done that, got the T-shirt!
COYI