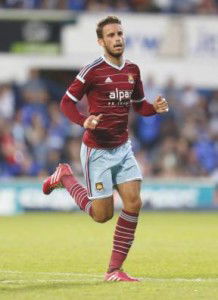 West Ham – whilst being ready to allow Diego Poyet to leave on loan – will want to make sure that he gets first team football.
Poyet is the future apple of Sam Allardyce's eyes and the manager won't want any fiascos such as the one surrounding Matthias Fanimo who, having been loaned to Tranmere Rovers, hasn't been used in a single game.
We understand that like Ravel Morrison who is now at Cardiff, the Hammers are ready to let nineteen year old Poyet is set for a three month loan spell.
But the Irons are certain to seek assurances that the defensive midfielder gets a decent share of first team football.
Poyet's is seen as a big player in the Irons future and the club will be desperate to ensure he gets exactly the right club.
A club insider made the position clear saying: "There's no mileage for us in our players going out and sitting on the sidelines.
"We need to be sure they will be playing otherwise they might just as well stay where they are."
ioth Ravel Morrison on his way to Cardiff City for a 90 day loan, the defensive midfielder also looks to be on  his way – possibly back to Charlton.
However, the club