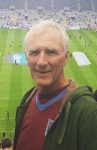 By CandH's top blogger Allen Cummings
Should we be making any political capital out of the current situation we find ourselves in with this horrendous situation?
Certainly not in my opinion where it concerns the health and well being of the nation. We need to remain as one to beat this thing. But when it comes to football, and it concerns our usually noisy neighbours just up the road, I think we can grant ourselves some licence.
We all know how the spuds in particular were highly vocal when we snatched the London Stadium from right under their noses a few years ago. They didn't like that one little bit, the accusation being we were taking advantage of taxpayers' money to accommodate ourselves with a new home.
Suddenly that particular ethical argument doesn't seem to be an issue troubling Daniel Levy's conscience right now as he gleefully accepts taxpayers money to pay 550 non-playing Tottenham Hotspur staff through the government's furlough scheme, rather than continuing to pay those same employees via the club's own payroll. Strange that!
It shouldn't go unnoticed either that on the same day Tottenham chose to take that highly debatable course of action, they also chose to published their annual accounts which showed there was enough money in the White Hart Lane pot at the time to not only to pay Levy's £4m salary, but also to factor in a nice little £3m bonus for the said Chairman.
Embarrassing doesn't cover it – especially as they're such a BIG club. No wonder, as Hughie posted earlier today, spurs supporters are self-isolating everywhere!
Apparently that magnificent, state-of-the-art 'proper' football ground the spuds are so proud of, and which is now in mothballs (like every other stadia in the country), means the club are missing out on more money than any other in the Premier League, with matchday takings usually around £5m, being lost.  Somehow I find it hard to have too much sympathy with Danny boy!