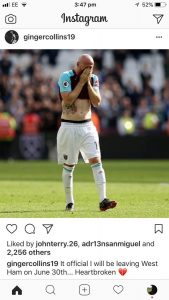 Hammer James Collins said goodbye on social media today saying "It's official I will be leaving West Ham on June 30th. Heartbroken'
The centre-back was given a glimmer of hope that Manuel Pellegrini might offer him something as the new incoming manager but his post on Instagram confirms he has reached the end of his 10 year West Ham career.
Over 5,600 have signed a petition to give the Welshman a testimonial even HMRC rules insist that the 10 years in continuous to qualify for tax relief.
https://www.change.org/p/dave-sullivan-give-james-collins-his-testimonial
West Ham insiders say hiring the London Stadium for a testimonial would cost up to £550,000 with no guarantee the game would break even.
Collins first stay at West Ham was 4 years and 3 months from 2005 to 2009 followed by his second stay between August 2012 and May 2018 adding another 5 years and 10 months.