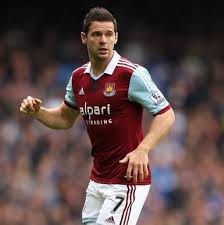 Matt Jarvis can barely wait for the first match of the season.
Spurs at home produced many smiles around the Boleyn when the computer fixture showed an ironic sense of humour.
Blimey, we even produced a T-short on the back of the Tottenham treble last season and the winger is determined to get off to a good start.
Manager Sam Allardyce insists that could be the key to a successful campaign and Jarvis said: " I am sure our fans will be excited and the pressure is on us to deliver another good result of course!
He told the official site: "It will be a tough game. Tottenham will be looking set about their targets , but it's a great game to begin the new campaign.
" I know our fans will be out in force again to get behind us so we can work towards making the best start possible.
"The aim is to make a solid start if we can and get some points in the bag early on, to give you that little platform to build on.
"We will be confident for every game but also know that we will have to be on the front foot and work hard to achieve the results we want.