It's always a problem when a loan player becomes a favourite!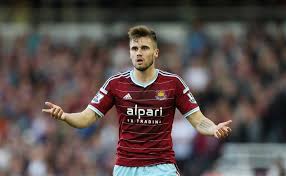 The terraces warm and warm to the lad and then have to accept that before another few months is up they will have to wave sad farewells.
Such seems to be the case with Carl Jenkinson who currently appears to be having a two-way love affair with the West Ham hordes and making no secret of it in his public proclamations.
He is at the club because of a close relationship between the Irons boardroom and his agent which was exploited to perfection when Arsene Wenger.decided he wanted the right back to get regular first team PL football.
But since breaking the story that there is no "to buy" option in the loan deal, ClaretandHugh has been inundated with suggestions as to how the player could be 'captured' by the Irons.
They all present the same variation on the obvious theme – do a deal which sees him comer to us and Winston Reid move over to north London with an adjustment on the fee perhaps in Arsenal's favour.
All well and good but why would Arsenal want to pay any sort of fee for a player who would be on a free and for whom they would in all probability have  moved earlier had they been interested in doing so.
The other obvious flaw in that idea too is the assumption that Arsenal are keenly interested in the player – a view based on  press reports which may or may not be true.
Also all our information is that the Hammers haven't received a single inquiry for the New Zealander.
Personally, I haven't entirely given up on a deal for Jenkinson being done although that may be based more on hope than expectation. The key will be the return of injured summer signing Mathieu Debuchy, due back by Christmas.
Jenkinson is not going to want a return to the PL sidelines at a time when his international career is taking off and no manager wants an unhappy player in the camp.
So much will depend on the Frenchman's form over the last part of the season and the wheeling and dealing Hammers board. Such has been their clever transfer market moves of late I'm not ready to never say never!