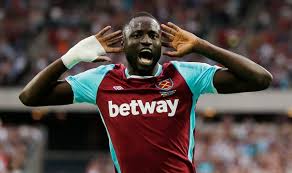 Cheik Kouyate has thanked his team mates for standing by him during what has obviously been one of the most difficult periods of his career.
The midfielder played through an ankle problem earlier in the season before suffering a hamstring injury and admits the issues  played on his mind and affected his form.
But the suport he received from his colleagues on the squad helped him through.
He said: "I love my teammates -Marko [Arnautovic], Arthur Masuaku and Manu [Lanzini] have helped me to get back to my top level.
"They spoke to me a lot and told me 'take your confidence, you are the best'. It's the same message from Adrian and from Jose Fonte. I know that today I am getting back to my best and I have to thank my guys.
"Marko is unbelievable, but not only on the pitch but outside the pitch, because we need people like him, like Arthur, Adrian, Manu, Jose, [Pedro] Obiang and the captain.
"I love Mark Noble, not only because he is a West Ham boy and he is the captain, but I love him because he speaks with me and he knows I had some problems, he knows everything about me and always says 'If you need something, I'm there for you'."
Kouyate admits toothat social media criticism played on his mind and said: " "I had a hard moment, but this is life. It's very, very difficult sometimes, but when you have difficult times, you never stop working hard or let your confidence drop.
"I have too many friends who are helping me, including my wife and some very good friends who have sent me messages and they have given me confidence.
"I know I had some fans who were angry with me and asking 'Why are you not playing good?', but I know this is life and sometimes you play good and sometimes you play bad. Sometimes you can't give your best because nobody knows what problems you have, and I am over these problems and God is good and now I am starting to get back to my best.
"I have good people in my entourage, they're helping me and I like that. Now, I want to continue to work hard until the summer and make everybody proud of me."