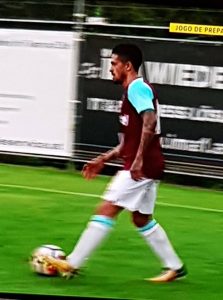 Manu Lanzini is as confident as it gets the Hammers will stay up and is up for the battle over the last games of the season.
Speaking ahead of tomorrow's game he told the official site: "It's great to be at home playing at our ground where we get great support and we're working really, really hard to give our supporters something to cheer about,"
"It's great that six of our remaining nine matches are at London Stadium, but we need to win all of our games and we need to look forward and be positive.
"Every game is important to us and we're not really looking any further than this game [against Burnley]. We've worked really hard this week and whatever happens after that we'll have to see then.
"I have full confidence we are going to be able to stay in the Premier League. We have a great group of players, a great team and good people around us too and we believe we can do that."
He added: "I think we'll stay up. That's all I am really focusing on at the moment, there is nothing else in my head and I believe we will stay up. I'm really looking forward to changing the situation we're in.
"It always takes time to come back from an injury but I'm doing my best to get back to 100 per cent now.
"The team didn't perform as well as they could in those two games and it is never nice to lose in a match. We're sad when we lose a match but we are really trying to turn things around and we believe we can."