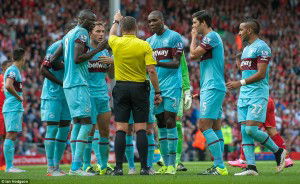 The discussion over Mark Noble's red card has been held and the outcome is unanimous – it has to be rescinded.
And the good news is that having received that, rather than two yellows, he has every chance of seeing referee Kevin Friend's horrendous decision turned round.
There's no appal for two yellows but a straight red means the club has every right to do so and for the sake of football they have to win. It was a terrible decision.
It wasn't a foul…he didn't touch Danny Ings but the former Burnley man's reaction was awful and I wonder if retrospective action will taken against him for such awful play acting. It should be!
We had no real chance of seeing Adrian's red card overturned but for the good of the game, Mark Noble, West Ham and our fans this has to be overturned.
It was wrong and Danny Ings was the main offender.