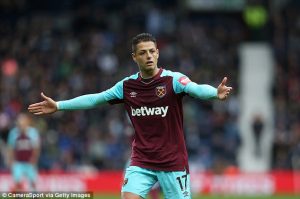 Chicharito is a happy man and enjoying his football again with all talk of moving on seemingly forgotten.
And after the victory over Watford, Little Pea was in effusive mood as he discussed the future with the Hammers looking so much better than in previous weeks.
He told the official site: "It was the perfect afternoon. Compared to the last game that we lost at Brighton, thankfully today with our fans we did a pretty good performance.
"Not only did Marko and I score, but the whole team ran with high intensity and we showed that we wanted the three points.
"Three points are three points whoever they come against, and we need to keep going day-by-day and game-by-game because every game is going to be a final.
"We have a little break now, which will give the players who have been playing the chance to have a little rest and for the other players to get fitter, so everybody is going to be healthier and the manager can decide who will start."
Of Marko Arnautovic's contribution he declared: "Marko is an unbelievable, all-around player and it gives you a lot of confidence when you play up front with a player like him, or like Joao or Manu,
"We have a good understanding with each other and both of us scored today. That's a good thing for a striker."