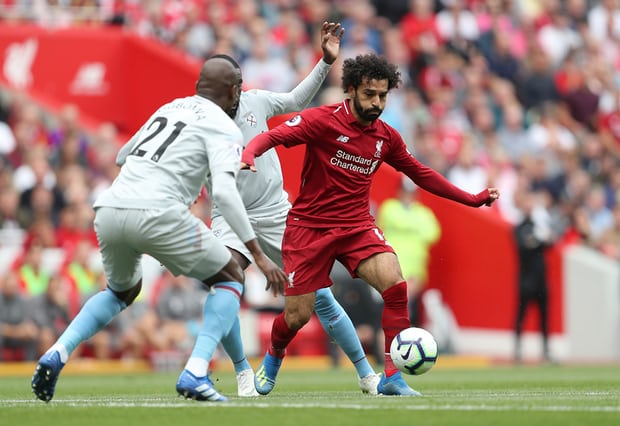 Liverpool 4 Irons 0
By Sean Whetstone
It would easy to overreact to a West Ham four-nil loss after the first game of the Premier League season .
But this was against the team I am tipping for the title this term and a squad who didn't lose  a single game all season at Anfield last term.
The bookies, not used to giving away money made us a 14/1 shout for the win, so the writing was on the wall before a ball was kicked. Our optimism – from inside the Hammers bubble – proved a little too much.
Pellegrini appeared to borrow an old tactic from his Man City days in demanding a hard line on the 18-yard box and it backfired with spectacular effect.
Masuaku started in the left-back role with Cresswell absent and again his defending was entirely incompetent with it being easy to argue he contributed to the first two Liverpool goals.
Ogbonna and Balbuena started well but they lost concentration  in the second half while Fredericks found it difficult to contain Mane showing maybe a lack of Premier League experience.
Fabianski was my West Ham man of the match and stopped Liverpool from making it a more embarassing six or seven nil.
The West Ham midfield was largely absent in the first half with Noble, Wilshere and Rice having little effect and Arnautovic looking isolated.
Anderson seemed strong in the first half and looked tired in the second before being substituted for Hernandez on the hour mark.
Rice looked slightly uncomfortable and out of his depth in his new midfield role and was substituted at halftime for Snodgrass' experience.
Marko Arnautovic who faced a late fitness seemed to be suffering and was eventually replaced by Yarmelenko.
It is not a time to overreact, integrating five new signings and changing tactics so radically against Liverpool away was always going to be a tough ask.
The real test begins at home against Bournemouth and there's nothing more to say but to write it off as a bad day in the office and move on.
My Ratings: Fabianski 7, Masuaku 3, Ogbonna 5, Balbuena 5, Fredericks 4, Noble 5, Rice 4, Wilshere 4, Anderson 6, Antonio 6, Arnautovic 6, Snodgrass 5, Yamelenko 5, Hernandez 4