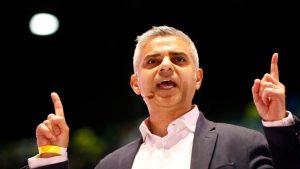 London Mayor, Sadiq Khan's investigation and report into the former Olympic Stadium is facing further delays.
The draft report was due to due to presented to GLA members this month but will not be delivered until later this year.
A spokesperson for the Mayor of London Speaking exclusively to Claret and Hugh today said: "Moore Stephens was appointed in March to lead a thorough and detailed inquiry into the spiralling transformation costs of the London Stadium. The review is investigating decisions made about the construction of the stadium, what contractual commitments were made for the stadium's conversion, as well as providing an assessment of ongoing and future operating costs. It is expected to be completed later in the year."        
Sadiq Khan announced his inquiry in November last year but many companies reportedly ruled themselves out through a perceived conflict of interest as they were involved in the former Olympic Stadium project at some point in the last seven years. A decision was approved by the Mayor to appoint Moore Stephens and pay them £140,000 to produce a draft report by June.
A source close to the club said: "The report does not really involve West Ham United directly. The review surrounds the decision E20 Stadium/London Mayor about the stadium and the reconfiguration,  not the contract with the club."