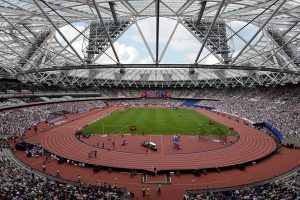 The London Athletic Championships have been awarded an official Guinness World Record for the number of tickets sold at any IAAF World Championships event.
The figure recorded on the official Guinness World Record certificate is 701,889 but with that taken two days before the end of the Championships, it will be updated to reflect the over 705,000 eventually sold. Session 12 on the morning of Saturday 12 August was the best-ticketed session with 56,620 attending.
Held in the UK for the first time ever, 2200 athletes from 203 nations travelled to London while fans from across Britain and the globe poured into the London Stadium.
Assuming an average ticket price of £40 the Championships have probably generated over £28m in ticket revenue although how much Stadium Owners E20 or operators LS185 will see of that is unknown.   The cost of moving the seats between football and athletics mode is still thought to cost a seven figure sum each summer.