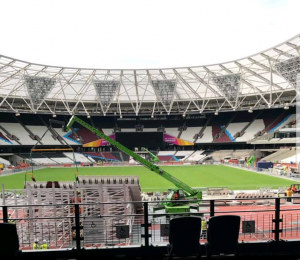 Work is now underway to convert the London Stadium back to football mode following the completion of 2017 IAAF World Championships on Sunday.
Stadium owners E20 Stadium LLP are contractually obliged under the contract with West Ham to return the stadium to football mode by August 25.
In a Freedom of Information response, E20 Stadium say: "All four of the stadium's stands are scheduled to be in their football positions by the 25 August. The stadium will be ready for West Ham's first home match on 11 September 2017. Given that the stadium will be in football mode prior to West Ham's first home match, no breach is anticipated."
London Stadium owners have installed new LED advertising boards between the lower and upper tiers as well selling branding space on the concrete spaces either side of the giant screens to an as unnamed med sponsor in an attempt to generate more advertising revenue. Supporters flags will need to be relocated within the stadium.