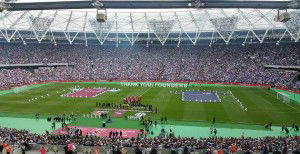 Following successful two opening games against Domzale and Juventus, the London Stadium faces a number of finishing touches before the first Premier League home game against Bournemouth on Sunday 21st August.
As we revealed earlier work has already started  by Fabric Architecture to install fabric sails to hide the back of lower tier retractable seating from supporters view. The Claret and Blue sails will hide the scaffolding as well as adding a safety feature to stop anyone falling over the gap after one too many beers.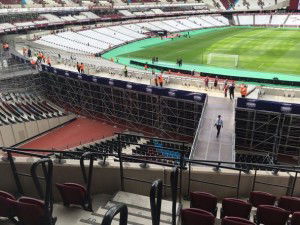 The light green temporary plastic sheeting over the running track will be replaced. Karren Brady has already confirmed this will be replaced by a much darker and safer Astro turf covering the area between the lower tiers and the pithc by the Bournemouth game. It will designed to match in with the grass pitch.
The Black seats in the new Sir Trevor Brooking and Bobby Moore stands will be opened up for the first time. These 6,000 seats were closed for the first two matches because the safety certificate restricted football capacity to 54,000 but this restriction should be lifted this week when New Newham re-issue the certificate for 60,000. The remaining 6,000 seats screened off in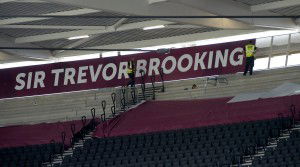 Claret will remain un-used this season but could potentially be used in the future despite being outside category 4 stadium guidelines for sight lines.
Work will continue to install the remaining fabric panels on the wrap around the outside of the stadium. Photos of players will remain under the illuminated West Ham United sign until the 83m HD screen is ready in October.  Free Stadium WIFI will also need to wait until October.