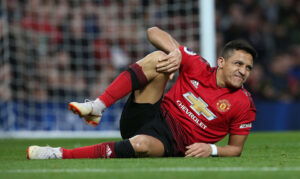 Reports that Manchester United player Alexis Sanchez could join West Ham this summer are pure fiction.
The Chilean has struggled since he arrived at Old Trafford in January 2018. Lacking the vigour, verve and sharpness that saw him shine at Arsenal, Sanchez has scored just five goals and added nine assists. Last summer, United sent Sanchez on a year-long loan to Inter Milan. United shipped him out on a temporary exit.
Sanchez is reported to be United's second-highest-paid player on £500,000 per week or some £26m per year with his parent club prepared to subsidise his loan to the tune of £300,000 per week.
Even at £200,000 per week, he would break the Hammers current wage structure where the highest earner is to thought to be around £120,000 per week.
Add the factor that West Ham have made loses of around £40m already and David Moyes wants to lower the average age of the squad by signing 25 years or younger this rumour seems to be a non-starter.  The 3o-year-old
Italian publication FC Inter News is the outlet to link Sanchez to the Hammers.
The report suggests the Hammers have contacted his agent Fernando Felicevich to ask for 'information' ahead of a possible summer move.
Agent talk, we will leave it there!