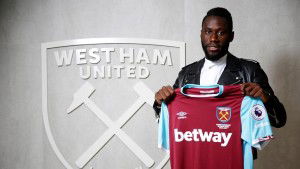 Brian Neil Gay today chose to put left back Arthur Masuaku under his PlayerWatch spotlight. He must have had a dream or premonition that the defender may have a rather major impact on things.
Here he gives a blow by blow of the player's afternoon.
Player Watch – Arthur Masuaku
1st Half
00:00 Lines up in the LB position
00:30 Could not prevent a dangerous ball in from Phillips
01:48 1st foray into opposition half on the right wing, receives the ball and makes a successful pass back.
01:50 Takes the throw, receives it back and plays a safe pass back.
03:10 Takes up a position in the middle of the opponents half.
03:30 Wins a throw-in, then another repeat throw, peels off to right wing.
04:10 Receives the ball, return pass completed, receives again, another return pass completed.
04:30 Header deep into WBA half
04:40 Nice pass to Noble in attack from RW
05:10 Backing into defensive shape in RB position.
06:00 Handball after winning tackle fell and the ball inadvertently struck his hand.
06:15 Masuaku second handball inexplicable no need to handle it not under pressure in the box. WBA score from the resulting penalty. very poor from Arthur.
07:00 Received the ball then misplaced the pass but gets it back and plays it to Noble
09:00 On the right wing passes back successfully.
09:50 Rondon allowed a free shot, Arthur not in a good position as a second WB striker also unmarked.
11:01 Received ball on the right wing, passes back to Mark Noble but it puts MN under pressure.
11:50 Massuaku farthest forward down right not able to get on end of Nordveits long cross field ball.
12:40 Defending saw Phillips out wide to touch line to force a pass rather than a cross – better.
16:25 Wins header out of defence.
17:25 Wins header receives it back then plays a successful pass back.
21:00 Takes throw just inside own half receives it back and successfully passes back.
22:00 Well forward down the right, passed well to Zaza who lost control.
24:00 Received the ball on the right wing in attack and lays it off successfully.
25:00 Received the ball in attack passes to Manuel Lanzini.
25:30 Back marking Phillips who missed hit the cross with an air shot. No real challenge from Arthur.
26:00 Takes throw near halfway line.
27:00 Fouled Rondon and gives West Brom a set piece just outside box. Then attempts a bizarre up and under clearance right in the middle of our box to maintain the pressure on us.
27:40 Played one two in attack on the right wing.
28:00 Linked up attack with two side ways passes.
30:00 Pass back from RW just inside own half.
31:00 Held ball and laid off HW line.
32:00 Received ball from Kouyate tried to play long cross field ball for Payet but ball went out.
32:40 Won in middle of defence passed back to Adrian under pressure.
34:00 Takes throw in deep in own half but loses the ball.
34:00 Heads out of defence.
35:00 Ball from Mark Noble passed it on sideways across the field to keep attack going.
37:00 Received ball on RW laid off safely backwards.
39:00 Brought out of defence and passed forward.
40:00 Overhead clearance loses possession.
41:00 Masuaku wins ball caught by Dawson (Dawson gets retro yellow card)
44:00 AM was closest to Mclean and is too slow to react does not even get a challenge in on McLean who scores. Poor defending.
45:00 One two on the RW.
45:22 Wins challenge on RW
45:00+1 too slow Rondon runs through past AM but he eventually recovered to get a block on the cross which goes out for a throw.
45:00+2 HT
2nd Half
45:00 Two passes made and received on RW just inside our half.
46:00 Wins a header forward to Callieri.
47:00 Missed the ball almost letting Rondon in but Ogbonna mops up.
47:30 Defends well against Rondon.
48:00 Receives the ball in attack on right wing, dribbles and passes to Payet.
50:00 Received the ball passes forward receives back lays off to Manuel Lanzini.
50.20 Wins the ball middle of WBA half and passes to Michail Antonio in a good attacking position – better.
51:00 Wins the ball in a defensive challenge with Phillips… good.
52:00 Lays off to Manuel Lanzini.
55:00 Gives ball away from short corner kick results in Albion's 4th … sloppy.
57:00 Surges forward and lays off to Michail Antonio.
60:00 Runs overlap in attack but does not receive the ball.
64:00 Links in attack on RW successful passes
66:00 Links in attack on RW successful passes
69:00 Nice dummy and lay off to Payet in attack.
70:00 Wins ball back plays in Manuel Lanzini.
72:00 Did'nt read the attack well enough to link up when we were in a good position.
75:00 Links up attack with a couple of safe passes.
78:00 Subbed.
Overall Impressions:
DISASTROUS. Arthur had a hand in 3 of the four WBA goals. First the handball – ridiculous no need to have done it. Was then slow to react when he could have got a challenge in to prevent the MaClean goal. Then that dreadful pass that led to Rondon's breakaway goal for the WBA fourth.
He's not afraid to get involved and featured frequently in possession play when on the right wing but most of his passes were safe either sideways or backwards, the odd time he tried to play a decisive ball apart from one into Zaza didn't come off. 
For all his safe possession play defending is where he has been under par. In addition to the handball there was a moment when he attempted a clearance in the middle of box only to whack it straight up and down.Positionally very suspect and slow to read / challenge when it is most needed.
It was a shame as he has looked promising in the previous matches but chose today to have a mare.