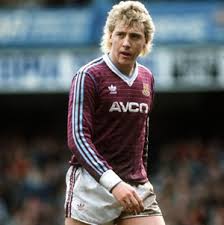 Striking legend Frank McAvennie is delighted that Sam Allardyce has defied all expectations and produced an Irons side that is playing football to feet!
But he laughs: "No way in the world are Sakho and Valencia the new Supermac and TC."
A smile is never far away when Frank is on the case talking Irons but he's deadly serious in his assessment that the team can land a place in the top six this season.
Speaking exclusively to ClaretandHugh he said: "It was desperate last year and I understand why the fans reacted as they did but this year is absolutely brilliant and I am delighted that Sam Allardyce has gone two up because that's the secret.
"It could be even better when Andy Carroll is back because they could even go three up as Andy is more than a big lump.
"He's a bloody good footballer on the ground and can bring players into the game. That's gonna be fun.
Macca says he was never among those who believed the manager only had one way of playing saying: "I remember how he mixed it up at Bolton but we needed to see it change here from last season and I like everyone else am thrilled.
"The Hammers are actually a top 13 team at the worst of times – which was last year – and we should always be a top ten side.
"On that basis, given the way they are playing this season I reckon they can make it into the top six.
"Outside of the big boys there aren't many around, if any, who are better than us so why  shouldn't we be in the top half a dozen."
Macca is coming down for an Essex signing session on November 23 but will also be at the Boleyn for the match next weekend against Manchester City.
He said: "I can't wait for that one because I really think it will show exactly how far we've come. It's a benchmark. In the meantime well done the board ,Sam and the coaching staff. It's going really well."