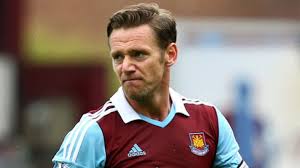 Kevin Nolan will ever  give his terrace boo boys the pleasure of a recation.
The 32 year old – now fit from a shoulder injury and looking to feature at Burnley tomorrow – was unaware of the boos as he prepared to enter the fray against Queens Park Rangers last weekend.
But he revealed to London 24. com that his father and brother had told him about it after the match.
He said: "At the end of the day, if people want to boo men, that's up to them. I don't look at websites so I don't read any of it but people have told me that many fans were not happy with the negative reaction and I do appreciate that.
"I've had a great playing career and, I know, if you ask most Bolton fans now who they would like to come back and lead them, I would be up there near the top. The same for Newcastle fans.
"I'm part of a fantastic squad, I'm trying to do my best, I always will. I will know when it's time for me to go, or the gaffer or the chairman will. Until then, I will continue to give one hundred per cent.
"They [the boo boys] won't get a reaction out of me — they might do out of my dad, though, because he wasn't happy. To me, though, it was nothing because I know it wasn't deserved.
"I know the negative supporter always shouts louder than the masses who are there to support their team."