By Hughie Southon
David Moyes was right to dub it a monumental performance!
From start to finish it was a day that will live forever in the memory of those of us who were inside the stadium where the atmosphere was utterly extraordinary.
Finding yourselves hugging total strangers as the mighty Irons went two up against one of the best two or three teams in the world is as unusual and as thrilling as it gets,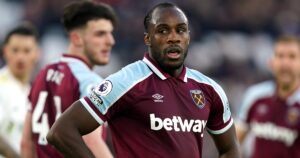 Now we move onto Brighton and the very real chance of overhauling Manchester United and thus returning to the top six and the Europa League.
Should we win and United do anything lose or draw we will have cracked it and that will be a thoroughly deserved outcome to the season.
Yesterday (Sun) saw remarkable performances right across the pitch with Jarrod clearly man of the match with two fine goals but Mikey Antonio who was in superb form.
He caused City problems every time he was on the ball and his magical assist for Jarrod's second was wonderful stuff.
A word for the grat save from Fab and a defence and midfield who refused to be overwhelmed by an often rampant opposition.
Now for one more push before a well deserved rest.
COYI