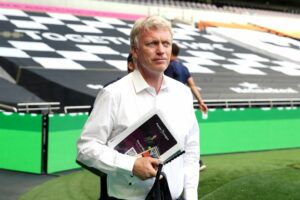 West Ham manager has already complained about the lack of rest compared to Spurs and the VAR decision as he looked to deflect blame away from him and the team.
After the first loss against Wolves at the London Stadium Moyes complained it was a different experience with no crowd, saying he would be lying if I said I enjoyed it adding we missed the atmosphere but this is what we are going to have to deal with.
Last week he used his pre-match press conference to complain about fixture pile-up saying it is wasn't fair that Spurs had another 24 hours to prepare.
Post the blame shifted to VAR with the manager complaining the referee in charge of the technology on the night was not very good at his job.
In today's press conference he got his excuses in early again saying we have played Champions League teams.
Moyes explained  "What I have found is that I have played two Champions League teams who wouldn't look out of place in the Champions League if they qualified in Wolves and Tottenham. You've seen how well Wolves have started, we know about Tottenham, I actually think we were always having a difficult return with the teams we had to play and it's proved to be"
Chelsea who are currently in fourth place fall in the same category as Wolves and Spurs with regards to the Champions League tag.
This week West Ham have had a full seven days preparation while Chelsea will have just three days.
Asked whether he considered the Chelsea game 'a free hit' the Gaffer told reporters  "We will have played three teams that are going for the Champions League who have quality all over at the moment. I'd never use the words free hit, I've never had a game in my career that's a free hit. You have to win, I am trying to win all the games, it doesn't matter who we play."