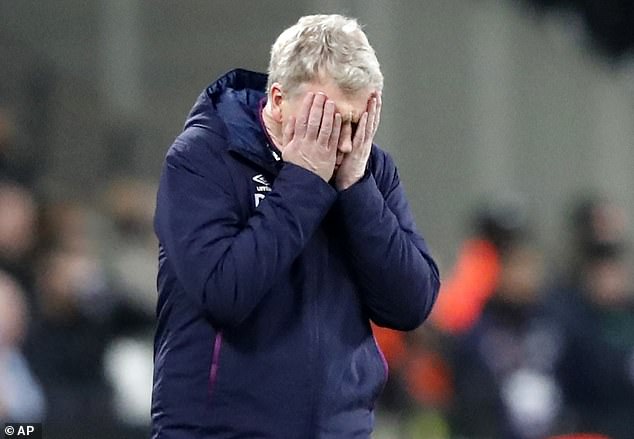 By Simon Leyland
If you are a glutton for punishment , read on and discover what The Moyes had to say 0n our woefully inept 4-0 thrashing at Brighton – if not, put the kettle on and stare out the window for a while….
How bad of a day was that for you?
It wasn't good. We've not played well today, we let ourselves down. In the first half I thought we gave away a terrible goal from a penalty-kick which we could've easily dealt with. We were always coming to play a team that would have a lot of possession so we knew we'd find ourselves having to give up a bit more than we would normally do. We had a couple of really good chances to equalise in the first-half and didn't take them. We went in 1-0 down, it was really disappointing. We hoped we'd come out and play better in the second-half and it was the opposite.
Was that one of the worst results of your tenure?
Yeah, I think so. Certainly in my second time back it would be one of the worst and one of our worst performances as well. But I could give a bit and say we put a huge effort in, put out our strongest team to try and get through in midweek in the FA Cup. We did everything we could in the first 80 minutes and couldn't quite see it through at Old Trafford. Did that play a part today? I believe it did.
Where did this result come from after beating Nottingham Forest 4-0 a week ago?
This is the Premier League for you? Brighton are a good team, they're playing very well and we didn't and we haven't been away from home.
How tough of a day was it for Ben Johnson?
I wouldn't talk individually but Thilo Kehrer went down sick during the night last night so I didn't have anything I could do to alter that at any time in the game, as far as a right-back went. It was a tough day for Ben but he's a young boy, that's the way it is, you have to learn on the job sometimes and hopefully he learns a lot from today.
How frustrating was the manner of the defeat?
We lose the first goal to a penalty, the second to a corner. I've been asked a lot about the corner and it was really poor but we conceded our first goal from a corner all season on Wednesday night and today we've lost our second, out of 120 corners or something. We're not making any excuses but the law of averages says you might lose some as the season goes on. But for Brighton today to go 2-0 up from a penalty and a corner, if you put that in perspective, for all Brighton's good stuff and how poor we were, that's how we went 2-0 down. The minute we had to open up and slightly change we gave Brighton more opportunities to play through us. But we had to try and do something to see if we could get some part of the game back. If anything we were better sitting in waiting and breaking on them. We had more chances from that.
What was the thinking of taking Said Benrahma off at half-time?
I thought they were causing us problems down the right with Solly March and Veltman and I didn't think we were getting any creative stuff. But I could have said that about a lot of them. I've got to make the decision of what I think at the time. Pablo Fornals has played quite well for us, does a good job for us. I thought he might have helped out a bit more in a defensive situation and Pablo's someone who can come up with a goal. We turned the ball over more in the first-half than I think we've done all season. Our passing and control was really poor.
What did you make of the reaction from the away fans?
Totally understand. They've been watching a really good team for the last three years, a team that's been finishing sixth or seventh in the Premier League, been watching a team that's got into the semi-final of Europe, a team that just won the group in Europe again, so I understand it's hard to come and watch that performance today.
What do you draw on to get through this period?
You just go back and do your job the best you can. We've not had too many days as bad as today, we've not had many and you don't get allowed many. I've got to say felt like a bad day for us, it didn't feel like a good day for us and we have to try and get that picked up. We've got a great opportunity when we go into Europe in midweek and we've got a game at home next Sunday, so you've got to try and make sure we get the points to try and climb the table. The home games have been pretty good to us so far.
What is your message to the fans and how do you go about reassuring them that things will improve?
I think that I would hope that they have seen a lot in the last few years that they've got something to hang on to.
Where was Michail Antonio today?
Michail Antonio just felt his hamstring after the game in midweek. The game in midweek took a lot of us, physically, it was big numbers we ran and we put a lot of effort in to try and get through in the cup and didn't quite come off.
How much are individual errors costing you at the moment?
Huge, huge, individual errors in midweek and the individual errors today, you can ask the manager why people are upset and why people are questioning things. When it comes down to it at this level, it's a lot to do with individual performances as well. One or two at the minutes have not quite been good enough at the moment.
Does a result like this linger in the team and how do you stop that from happening?
I hope we don't, but I'm not daft enough to not know that we've got to make sure it doesn't. We had a really good result only last Saturday when we beat Nottingham Forest 4-0, much better. We went up hoping we could take it into the FA Cup and for 80 minutes in the FA Cup, we gave it a right good go to try and get through it. Maybe today we've just felt that today as an impact. This is our second [away] game now, we've got a third in a row. I think we've had something like four of 13 games at home, all of the others have been away from home. At the moment, our away form has not been great. We're seeing that at the moment, there's a bigger fixture list of home games coming later but at the moment, it's a big group of away games.
Is it difficult managing Europe when you're in a relegation battle?
I don't think it plays havoc with my mindset because we qualified in November time, so we've had no reason for that to get in our way. I don't necessarily think it's got in our head this week. We have to do some preparation and we have to think about where we are going, times of travel and things like that but at the moment, obviously, our Premier League position will be the most important. It's also something that we're quite proud of is being in Europe for two years and I think you can see clubs like Brighton, clubs like Brentford, Fulham, a lot of clubs who are competing would love to be in the situation like West Ham have been in for the last couple of years.