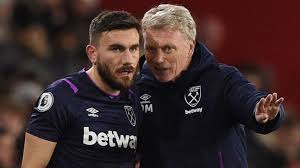 Robert Snodgrass has plenty of time for manager David Moyes and a shared nationality isn't the sole reason for that.
The 32 year old's effort and example can't be faulted this season . Indeed he has been one of the better players and it now seems very odd indeed that he was farmed out to Aston Villa on loan.
With a year left on his deal plus a 12 month option he's likely to be around the Hammers until the end of his top level career although he will come under more and more pressure for the starting place.
Doubtless Grady Diangana will return in the summer to add more competition to the midfield places and with the likes of hopefully, Soucek, along with Declan, Fornals and Bowen we will indeed look very strong in that area.
Meanwhile Snods is getting on with his individual training and, and as a result, took some stick from his pal Aaron Cresswell by posting examples of his efforts in Instagram.
Cress reckons he was just trying to impress the boss but hey why not? We've all done it 🙂
Said Snods speaking to Sky Sports News, Snodgrass : "He speaks my language which is good, it's always a bonus.
"He came in and he's been straight with the boys. He said: 'Imagine you were the fan paying the money to go and watch. That's the level of work that I want and they need to be seeing it'.
"That's exactly the way that we've been brought up."