By Gonzo
David Moyes has admitted that he initially got it wrong with Lucas Paqueta . . . sort of!
During an honest interview the West Ham manager confessed that he initially purchased the former Lyon playmaker as a 'No 10' or creative midfielder. However, during the World Cup Moyesie was able to watch  a few games and noticed a subtle difference in the way Paqueta played for Brazil.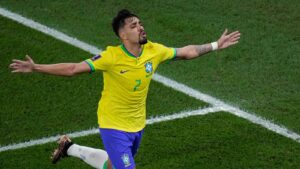 As anyone who watched the samba boys will no doubt be aware, Paqueta played in a deeper role alongside Manchester United's Casemiro. This left the the bulk of the attacking duty to Neymar who would then look to supply the three players ahead of him.
Clearly the Hammers boss thought, 'if it's good enough for Brazil, it's good enough for West Ham'. Since that epiphany in Qatar, Moyes has decided to ditch Tomas Soucek and deploy the Brazilian £50m man as Declan Rice's partner.
When asked about Paqueta, Moyes said. "When we bought Lucas, we looked at him as more of a No 10. We tried to bring in someone who could give us a link between the midfield and forward players and I still think it may happen". 
"But his feeling is, if you look at where he's played for Brazil, it's tended to be Casemiro and Paqueta in midfield and Neymar getting the No 10 role. Lucas Paqueta was slightly deeper. We've tried to give him the opportunity to play deeper where he's played for Brazil. "I'll be honest, we brought him for eight to ten goals, for eight to ten assists. But if you're asking me how he's doing, he's settling in much better, he's playing better in games. We're playing him more like a No 8 if you want to call it that, alongside Dec. But the fact is, yeah, we hoped he would get us goals or add assists."