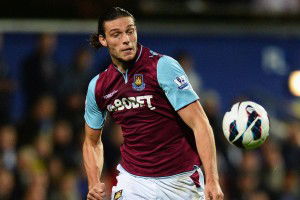 Andy Carrol's return is back on hold.
ClaretandHugh has been told that it would be wrong to put any date on his availability with a source declaring: "He's working hard but he is not close."
And one media report claims this morning that it could be Halloween before the injury ravaged hitman retuns to first team fury.
We were told: " Obviously we remain hopeful but it would be wrong to put any date on things. We are taking it week by week."
Meanwhile, manager Slaven Bilic has been addressing the matter of squad confidence ahead of tonight's clash against Accrington Stanley.
He said: ": "The worse thing that can happen in football is to lose confidence. Ours is harmed a bit because of the results and the position we are in. But you can't afford to lose it.
"If you lose your confidence as an individual and as a team, then you've got no chance. It's got to be a balance. You have to criticise because it's not good. You have to point fingers but there has to be a mix between the two of them.
"It was a bit harder when I was a player. Back home in Yugoslavia, it was very old fashioned. It is like that in school now.
"Everything's changed. Before the teacher could give you a little slap, now you can't do it. It all changed, not only football."