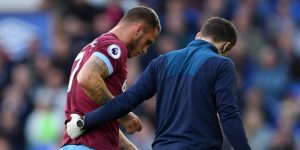 Marko Arnautovic 'pain barrier problems' are continuing and it could be up to three months before he is through the problem.
The Hammers striker has already revealed that he has a bone bruising problem for which there is no quick fix.
Most bone bruises slowly heal over 2 to 4 months depending on size with ice,  rest, and pain relievers the only recommended course of action..
The player has admitted he struggles to train regularly in the week at West Ham after sustaining a bruised bone injury.
Arnie confirmed he rarely trains at the beginning of the week and in a recent interview explained he needs three days rest after each game before he resumes with the Hammers first team squad. He insists though he can play through the pain and is fit enough to play each weekend.
Rest is the main  treatment for a bone bruise. This allows the body to generate new bone tissue without stressing the injured area, as further stress could cause the bone to break.