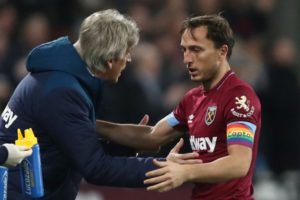 Mark Moble appears to criticise Manuel Pellegrini's tactics again in his Friday London Standard column.
While not naming the Chilean directly Nobes wrote "Teams in the Premier League now seem to be obsessed with playing out from their six-yard box and asking ­players to do something they are not comfortable with. Defending your goal has become uncool. I love playing expansive football but if you sat in a room with Martin Keown, Tony Adams, Lee Dixon and Nigel ­Winterburn and said to them, "You get the ball and play out from the back," they would laugh at you. Their reply would be, "Get up the other end of the pitch, we play in their half, not ours."
The captain continued "Football has become so complicated. Arsenal, for example, had double the amount of passes to us in the first half  on Monday, yet we should have scored three goals from them trying to play out. I just don't get it. Their best players are at the top end of the pitch so why don't they get the ball up to them as quickly as possible? Liverpool, in ­contrast, play more long balls than most, while the Manchester United team that won the Treble in 1999 also didn't play out much from the edge of their penalty area.
Players have got better and stronger but the basics haven't changed. When I was playing for the Under-11s, the ­manager would shout out: "Win your tackles, your headers, your battles and the rest will take care of itself."
Nothing has changed. Conceding three goals in such a short space of time against Arsenal was crazy but the ­mistake we made, after we had taken the lead, was thinking we could go on to score three or more. We should have stayed compact and hit them on the counter because they had to open up and try to score. We didn't do that and as much as Arsenal didn't play well, they can still punish you'
Claret and Hugh say:
This does seem to be a none too subtle final nail in Pellegrinini's coffin from his own captain suggesting that the manager's style and obsession with expansive football is partially to blame for West Ham's current result and perhaps we should return to basics by defending our goal and concentrate on not conceding. We all know that Manuel Pellegrini is a stubborn manager who plays a particular way and is not that receptive to changing that for anyone. This latest suggestion by his skipper is also likely to fall on deaf ears and in the end that will be the Chilean's undoing at West Ham which will cause his to lose his job. Fair play for Nobes for having the bottle to tell it as it is publicly.