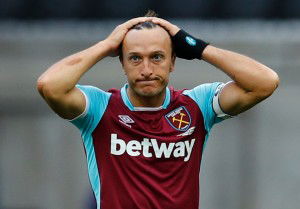 Captain Mark Noble has told the fans they didn't deserve the performance – if that's what we can call it – put out by the Hammers in Wales this afternoon.
It's becoming very tedious indeed to be told we need to put these displays behind us but for the record here's what he had to say following the game.
Speaking to the official site he said: "Nothing seemed to go right and it was one of those games where if something could have gone wrong went wrong. It's down to us now to pick ourselves up.
"We've spoken in the dressing room and we need to put this behind us as there is no point dwelling on it. It was a bad result and a bad performance, but we've got nine more games and we need to pick points up.
"I can't believe how many fans turned up, to be honest. We drove through the snow on Friday and it took us just under seven hours to get here on a coach, but it was a poor performance from us.
"They know we appreciate them coming here, especially me, and that's West Ham fans for you; they're always going to be here in numbers cheering and they didn't deserve what happened."
He refused to accept the defeat would have a long term effect on confidence adding: "I wouldn't say it's damaging because this is the Premier League and these results can happen. We didn't play well, it's as simple as that.
"We need to get back to basics. We've got three home games coming up which are key to our season, I think, so we need to get some wins there.
"This leaves us in the same boat as everyone else, really. We're all fighting to get out of that bottom three and I think it's going to go down to the wire. We've just got to win games."