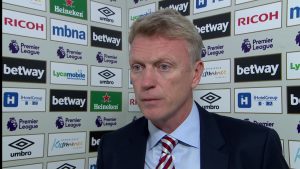 David Moyes refused to pull punches after the defeat in Wales describing it as the "worst performance in his time at West Ham."
And he warned: " I think the players have to take responsibility and reach the level they did six weeks ago.
We have the players who can do it but they will need to because we will need that between now and the end of the season."
He was very unhappy with a performance which saw the team gifting goals to the rivals in the drop zone saying: "We should have saved the first, then it was two corners – one a simple cross to the back post which should have been cleared – and a penalty."
He dismissed the idea that the Swansea defeat was critical saying: "It wouldn't have mattered who we lost to today. We got after them at the start of the second half but then got caught by the third goal."
He rued the loss of unwell Angelo Ogbonna and James Collins who was hit by a hamstring and remains worried about Wiston Reid who was stretchered off.
He said: "He was unconscious but we are more worried about a secondary injury to his knee."
"