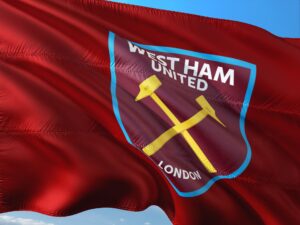 West Ham have confirmed their fixtures for October.
They reveal that the Premier League game with Wolverhampton Wanderers at the London Stadium will now have a 5.30pm kick-off on Saturday 1 October, with this match being broadcast live in the UK by Sky Sports.
The trip[ to Liverpool will take place on Wednesday the 19th and has  a 7.30pm kick-off, the game being broadcast live in the UK by Amazon Prime Sport.
AFC Bournemouth arrive at the at London Stadium on Monday 24 October. This match will be shown by Sky Sports in the UK and will have an 8pm kick-off.
Then, to round off the month, we will head to Manchester United on Sunday 30 October, with kick-off set for 4.30pm and Sky Sports broadcasting to fans in the UK.
Supporters should note that should we progress to the UEFA Europa Conference League Group Stage, our home game with Fulham, currently set for Saturday 8 October, and away match at Southampton a week later will also be subject to change.