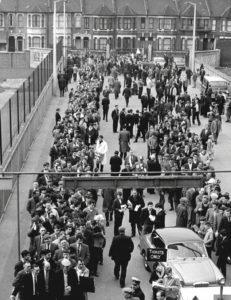 Norwich City fans are queuing outside Carrow road to grab tickets for the West Ham away game on 31st August.
Canary fans were taking no chances by queueing at 6 am to ensure they were at the front of the queue with some even getting comfortable in picnic chairs with tickets going on sale at 9 am.
With the recent technical failure of Ticketmaster for West Ham's Brighton and Watford away ballots some Hammers fans are calling for the same old school return of queuing for away tickets at the London Stadium ticket office.
The ten per cent ballot system has been called unfair by some season ticket holders who miss out despite amassing priority points.
Could we see a return of queues outside the London Stadium megastore in the early hours as Hammers fans clamour for in-demand away games. It would certainly bring back old memories like the old in this picture of West Ham fans queuing outside the Boleyn Ground for the 1964 FA Cup final.