Ok, ClaretandHugh is ready to stage a protest march if the Irons don't do the right thing…!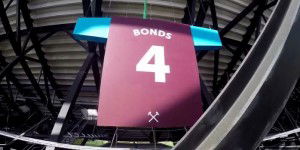 Karren Brady has let it be known that the London Stadium's East Stand is to be named after a Hammers legend adding that it won't be Dimitri Payet when mischievously asked the question at the London Assembly meeting yesterday (Wed).
There is only one contender and if it goes to anyone other than the first winner of the club's lifetime service award there's gonna be trouble – from here anyway.
That man is Billy Bonds – nobody else will do.
It would mean that the Hammers 'holy trinity' of  Bobby Moore, Trevor Brooking and Bonzo will be 'together' again in the new stadium.
Everybody has been crying out for Bill to be honoured by the club and it would be staggering if anybody else were named as the recipient of this honour.
The three men were great mates and it's more than arguable that Bill was the most dedicated guy every to wear the shirt.
So come on you Irons – let it be known quickly that he is the one before we start putting our protest march plans in place.
🙂