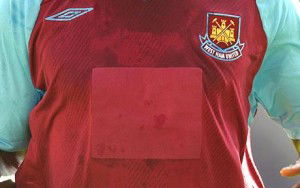 The collapse of West Ham sponsor Alpari UK yesterday could see interest rocket among companies looking to cash in on a final Boleyn season.
There will be massive focus on the Irons on their last season in our legendary stadium and that is a once-in-a-lifetime sponsorship opportunity.
Alpari UK sealed a three year deal in 2013 worth £9m to become the shirt sponsor and rename the West stand to the Alpari stand. They paid the cash in  instalments which is standard practise in the football industry and are thought to have around £4m of the £9m sponsorship outstanding.
Once West Ham have agreed to terminate the current sponsorship deal with administrators acting for Alpari it will have a green light to both  secure a temporary sponsor for this season plus a  permanent sponsor for next season.
The club is keen to avoid a situation like 2008 when a iron on patch covered the XL Holiday logo after they suffered a similar fate.
West Ham are understood to be in advanced discussions with three companies with the possibility of more sponsors coming forward as news of Alpari's collapse spreads.
Although West Ham have a potential financial black hole of £4m, the summer signings and the success on the field this season coupled with the last season at the Boleyn and the imminent move to Olympic Stadium should drive the price up over and above the price Alpari paid.
Companies may be willing to part with £5m or £6m for the chance to ride the coat tails of our recent successes and if that happens we will make a profit from the demise of Alpari trading.